Pace the Peaks of the Lake District with Cathy and Skye
On your own or in a group why not join me to Pace the Peaks?
The last few weeks of 2015 have brought nothing but wind and rain. Not the conditions for the higher fells but I've had pleasant walks up our local small fells such as Dodd Catbells and Latrigg, mainly with Barry and Skye.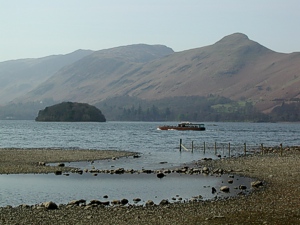 We had some excellent walks during summer of 2015. Why not look at photos on Pace the Peaks facebook page which you can reach using the button above to remind you that we do have good weather sometimes!
If you are visiting the Lake District in 2016 and are considering taking a Guided Walk either on your own or as part of a group do get in touch. The earlier I know who is likely to be here when the easier it is to put together small groups to share walks.
The following were my Mountain Festival walks this year: On Friday 15th May Buttermere Fells including Red Pike, High Stile and High Crag. After the steep ascent to Red Pike we all deserved lunch but had to wait until we could find a sheltered corner out of the wind. There was a strong wind all the way to High Stile and High Crag so we avoided the exposed paths above the crags. No avoiding Gamlin End, however and 40+mph gusts made this descent even more awkward than usual. The descent to Buttermere was enjoyable and sheltered and we beat the rain! Disappointing lack of bluebells coming down from Scarth Gap where they are usually very fine. Are they very late or was the winter not cold enough?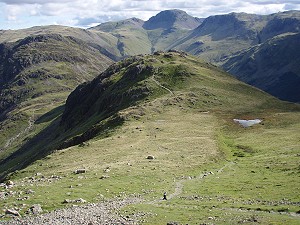 Saturday 16th May Circuit of Far Easedale including Tarn Crag, Sereant Man, Calf Crag and Helm Crag. Just six came with me today. This walk doesn't go as high as yesterdays but is just as hard with a significant amount of pathless grass! A windy day again but much sunnier with some lovely views. We found shelter for lunch at Sergeant Man in spite of a 45mph wind on the summit.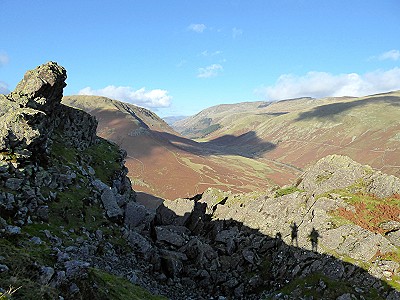 For full details of these walks click on Group Walks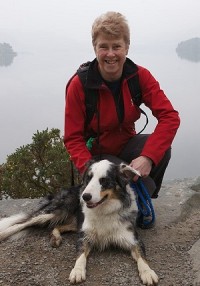 If you are coming to the Lake District get in touch to book a day on the Fells.
Book direct by phone 017687 74824 or email me
I am happy to take individuals or groups out for private bookings throughout the year. If you have particular walks you want to do this is a good opportunity or alternatively you can let me decide on an appropriate walk. The cost is based on £20 per person with a minimum of £60 for the day. Longer or more technical routes may be a little more. Just email or ring for details.
Go to my Facebook page using the button above to see lots of photos of my 2013 and 2014 walks and for availability on groups at the last minute

The Lake District Weather site now has live update of the weather in Portinscale. Click on the symbol above to see it
What sort of hiking do you want to try?
Are you happy walking round Derwentwater and would like to walk high above it?
Are you confident on Catbells and would like to try something higher? What about Hindscarth or even Helvellyn.
Are you tired of manufactured tracks and trails? Let's explore away from the 'tourist routes' and even try a bit of scrambling.
Do you want to get fit for that Charity Trek up Kilimanjaro? Come and climb some mountains to get you fit.
Are you a bit scared of getting caught in the cloud? Let's pracice using map and compass.
Whatever your experience or fitness level join me for that extra something that only a local guide can provide.
You'll find more photos and information on my Facebook page and on other pages of this site. Have a look too at my blog Lake District Walkers blog . I will try and update it soon!
| | |
| --- | --- |
| | Here is my dog Skye on the top of Causey Pike, on the first of many times he has climbed it. He is a blue merle border collie and had his 1st birthday on 4th February 2010. He is an excellent scrambler, enjoyed climbing Helvellyn and Skiddaw in the snow and is now a regular member of the team helping me shepherd you round the fells and keeping us all entertained!. |
Design by Cathy Colam